Today starts the STAREast conference. This Floriday based conference organised by Techwell and one of the premier conferences on software quality. Although running for years know, 2020 is the year they go virtual. The conference starts with a series of tutorials by Adam Auerbach, Adam Satterfield, Chris Loder, Dr. Jess Ingrassellino, Hans Buwalda, Janna Loeffler, Jason Arbon, Jeffery Payne, Jennifer Bonine, Michael Bolton, Robert Sabourin, Tariq King.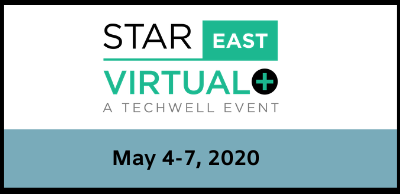 I will give the tutorial on Agile Test management that I developed with Jan Jaap Cannegieter. Whe have updated the program and enabled it for virtual delivery.
Although it's really early in the morning, I am wide awake and all wrapped up and ready to go. Funny that when you do a virtual conference, you do not have to travel, but you still work in a different time zone. Will I still end up with a jet-lag tomorrow?
Hope to see you in my class, more info can be found on the conference website: STAREast